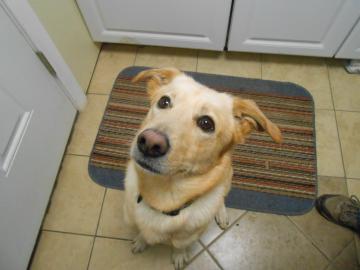 Happy Furry Friend Friday everyone!  To kick off Memorial Day weekend, I got to sit down with Ringo and ask him a few questions!  This three year old, lab mix is up for adoption with Second Chance Animal Shelter and has been waiting for his forever home for a while now!
Ringo, I like your name, are you a fan of the Beatles?
Who doesn't like a Beatles song or two?!  Can't say that I have a favorite though, there are way too many to choose from!
What would you say is your favorite way to spend the day?
I love being around people, regardless of what they are doing!  I've been at the shelter for about three months now, and I get to spend time with the volunteers which is fun, but I'm really waiting for my forever home and new best friend!  I have a lot of energy because I'm still pretty young, so I LOVE to be outside too!  Going for walks is one of my favorite things to do, I'm very curious and love getting to smell the fresh air! After a nice long walk, I like to come home and relax in the yard or cuddle!
Do you have a favorite place that you like to go for walks?
Not in particular, I just love being out and about with people, no matter where we go!  I would be the perfect companion for a young couple or family with older children.  Don't get me wrong, I like little kids but their screaming and yelling is a little too much for me sometimes.  I'm very energetic too so I wouldn't want to get too excited and knock them down accidentally.
What about a favorite toy?
I love the rubber kong toys that you can put peanut butter in!  It's like a toy and a treat combined into one!  Does it get any better?  Those can keep me occupied for a pretty long time, I can chew on it, play fetch with it, basically use it for anything!
What about fears? Is there anything that scares you?
I really don't like going back in my kennel!  I can't stand being locked up, I would much rather be sitting on the closest lap or cuddling!  I get pretty stressed out in my cage, so the sooner I get out of here and find my forever home, the better!
Ringo why do you think all pets should have pet insurance?
Well sometimes life throws you circumstances that are out of your control, and vet bills are not affordable for everyone!  All pets deserve to be protected like every member of your family!
Ringo is right, and as he knows from experience, life can throw you circumstances that are beyond your control.  One thing that you can control is making sure your furry friend gets the best possible care if they do become sick or have an accident.  There is no feeling worse than not being able to give your pet everything they need to live a healthy and happy life, so call us at MassDrive for a pet insurance quote today!