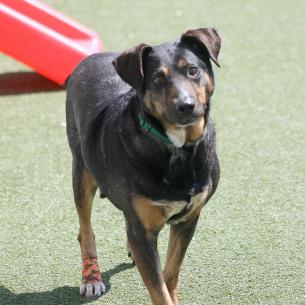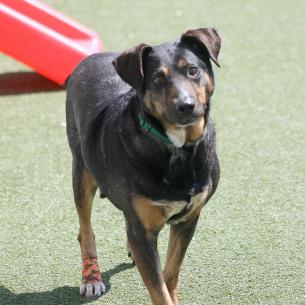 Happy Furry Friend Friday everyone, we hope you're staying nice and dry today!  My friend Cybil from the Northeast Animal Shelter in Salem is here to chat about her day to day life in the shelter.  Cybil is about 10 years old so she's an older gal, but she still has as much spunk as a puppy!
So Cybil, what is your favorite way to spend the day?
I love cuddling and being around people, those are my absolute favorite things to do!  I would follow around the shelter staff all day if it were possible, that's why I'm hoping I find my forever home really soon!  I would be the perfect snuggling companion and love to just sit near the closest person who will pet me.  Doesn't get much better than a good belly rub if you ask me!  I also like to go for nice long, leisurely walks so that I stay in shape, it's not easy looking this good!
Do you have a favorite place to go for a walk?
Not really, I am originally from Virginia so am not too familiar with my surroundings here in Massachusetts just yet, we have a play yard near the shelter though and that's fun.
What about a favorite toy?
I'm not that into toys to be honest.  I would much rather spend my time out and about on a walk or sitting next to my favorite person.  I guess I just outgrew them and am more interested in people.
You look pretty tough to me but is there anything that scares you?
Well I'm not really a fan of other dogs if they are pushy, not that I'm scared, just a little nervous around them if they start trying to jump all over me and I can get a little bossy.  I don't mind other dogs that are older or more relaxed like myself.  Other than that thunder does frighten me a bit, during the last thunder storm I started to shake a little because I was nervous, and the staff put one of those Thunder Shirts on me and I was much better!
Cybil, why do you think it's important for all pet parents to have pet insurance?
Well personally I am healthy as a horse, but I know that some dogs start to develop health issues as they age, much like people.  Even if your pet isn't older, young puppies and kittens can find things to eat and get them into trouble and you never know when that might mean a trip to the vet.
Cybil makes a great point, it may seem like pet insurance is not necessary or only for older dogs, but the reality is that regardless of your pets age, anything can happen and they might accidentally wind up in the vet's office because they ate something they shouldn't have or got out of the yard and got hurt.  The possibilities are endless and having pet insurance will leave you resting easy knowing that your furry friend will receive top of the line care and you won't have to break the bank, so call us today for a pet insurance quote and make sure your best bud is protected!
If interested in adopting Cybil, contact the Northeast Animal Shelter.  One of our past furry friends from the same shelter is still up for adoption as well, his name is Kyle and be sure to check out his interview here!