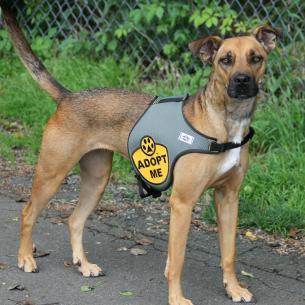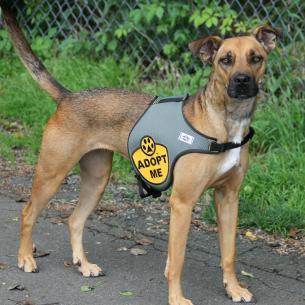 Happy Friday everyone, we hope you all had a fun and safe Fourth of July!  Yesterday was all about sun, food, fireworks, and fun but today is all about our furry friend!  Meet Berni, this cute girl is only one a half years old and is up for adoption at the Northeast Animal Shelter in Salem!  Rescued from Georgia, she is a sweet girl who has never known a home of her own but is definitely ready to find her family!
So Berni, what is your favorite way to spend the day?
Well I love observing everything going on around me.  I'm very curious and love getting out and about to explore.  I've been here at the shelter for about 3 months now and get special privileges because I'm such a good girl!   I get to sit in the different offices in the building and even go on field trips!  I am a very active and social girl.  Whether I am going for a walk, run, or playing with other dogs I am having a blast!  Of course I love to snuggle too once I get tuckered out.
Do you have a favorite place to go for a walk?
Like I said I get to go on field trips sometimes and have been to the Lynn woods a few times.  As a hound mix I love getting to use my sniffer and explore the woods, I am originally from Georgia so I guess that makes me a country girl!  Every time I go out I always make sure to wear my "adopt me" vest so that everyone knows I'm still looking for my family!
What about a favorite treat?
I will do anything for a treat!  I love almost all food and had some pepperoni this morning, don't mind my breath.  Treats have really helped me with my training too, I know how to sit, stay, give paw, and pick up on things very quickly!  If I know I'll get a treat for being good, I'll do anything you ask!
Is there anything that scares you?
Not really, I'm a pretty confident girl and have been through a lot so I think of myself as being pretty tough.  I wasn't even afraid of all the fireworks last night!
So Berni, why do you think pet insurance is so important for pet parents?
Well like I said, I love treats and will do anything for a good snack, even go through the trash.  I haven't eaten anything bad yet but you never know what can happen or what I may accidentally get into, I am still a puppy after all!  That's just me specifically, I'm sure all pets have their unique quirks that might get them into trouble, so it's better to be safe than sorry!
Berni is right, all pets have their unique quirks and personality traits that make them lovable but can also get them into trouble.  Make sure your furry friend is protected and call us for a pet insurance quote today!