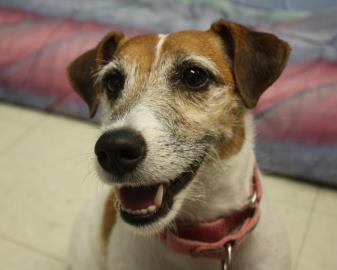 Here were are again, another Friday, and another Furry Friend interview!  Today I got to sit down and chat with Lucy, a five and a half year-old Wire Fox Terrier up for adoption at the Lowell Humane Society.  Wire Fox Terriers are known for their spunk and energetic personalities, and Lucy is no exception!
So Lucy, what is your favorite way to spend the day?
Well I love being around people, getting petted and laying in the closest lap is one of my favorite things to do.  I also love going outside and playing with my toys, we get to go out three times a day here and I love rolling around in the grass, the yard is even fenced in so I can run around without a leash!
Do you have a favorite toy to play with?
Not really, I love all of them but I don't like to share.  I don't get along with many other dogs so would like to go to a home where I am the only pet!  Here at the shelter I have a lot of toys to choose from though and there are enough to go around for everyone.
What about a favorite treat?
Believe it or not I am not very motivated by food and am rather picky sometimes.  I don't really have a favorite treat, maybe one day I will but I haven't discovered it yet.
Do you know any fun tricks?
Well in addition to the basic commands like sit, stay, and down I know how to give my paw and shake hands!  I'm a clever girl and could probably learn a few more tricks with some training.
Is there anything that scares you or makes you nervous?
Thunder!  It is so loud and makes me very nervous!  We have had a few thunder storms lately and it would be nice if I found my forever home by the time the next one comes!  I would feel so much better if I had someone to cuddle with during these storms!
Lucy why do you think pet insurance is good for all pet parents to consider?
Well, having pet insurance means you are prepared for the unexpected with your pet!  It's always nice to know we are protected just like the other members of your family!
Like the saying goes, it's better to be safe than sorry!  Accidents can happen when you least expect it and paying for vet bills upfront can be very expensive.  Pet insurance protects your furry friend and your wallet whether it's at a yearly check up or for something more serious.  Give us a call at MassDrive for a pet insurance quote and make sure you're prepared for the unexpected when it comes to your pet!