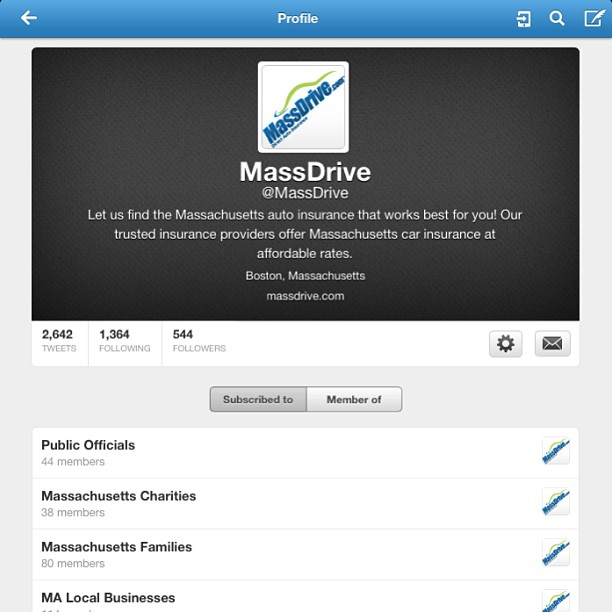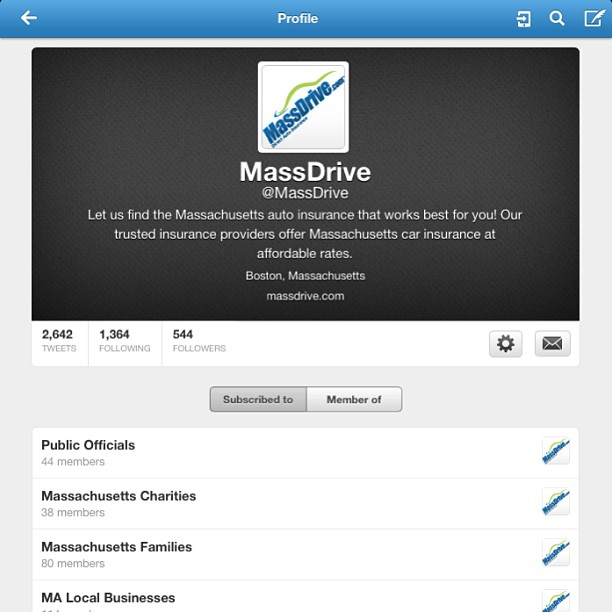 For those of you that are big Twitter fans, such as ourselves, we have an exciting announcement; our Twitter lists are up and running!  If you're new to Twitter or haven't heard of Twitter lists, they are basically groups of Twitter users that you can categorize based on your preferences.  Lists are very useful if you're looking for a certain type of information or account quickly.  We've made quite a few of them that list a ton of different resources, attractions, restaurants, and even public officials in the Bay State so be sure to check them out!
Massachusetts Resources – This is just a great list of resources for residents of Massachusetts, with members including the Mass DOT, MBTA Alerts, Visit Massachusetts, the many colleges and universities in the Bay State, and many more!
Cars – Pretty self-explanatory, this list features accounts that have anything and everything to do with cars, including dealerships, reviews, tips, and accounts that will update you on the latest technology for your car.
Insurance Resources – Whether you need an insurance quote or just want to hear the latest news in the insurance industry, this list has you covered.
Mass Entrepreneurs – Looking for updates from some of the brightest minds in Massachusetts?  Check out our list featuring some local entrepreneurs!
Fort Point Neighbors – Our office is located in the Fort Point section of Boston, if you're in the city be sure to check out our many neighbors in the area!
Massachusetts Restaurants – Looking for something to eat? Look no further than our Massachusetts Restaurant list! Scroll through and find the spot that's right for you, whether you're looking for a quick bite, after work drinks, or something a little more formal.
Massachusetts Towns – Looking for information on a specific town? This list has all of the accounts from different towns across the state.
Massachusetts News – This is your list for all news sources whether they're local or national, on TV or in print.
Massachusetts Attractions – Whether you're visiting for the first time or a seasoned local, there's always something new to do and see in Massachusetts!
Massachusetts Pets – If you're looking for a doggie daycare, animal shelter, cute new boutique for your furry friend, pet insurance quote, or just want to follow some fun pet accounts on Twitter, definitely check out this list.
Massachusetts Sports – Check this out for all of your Patriots, Red Sox, Celtics, Bruins, and many more team updates.
MA Local Businesses – Who doesn't like to support local businesses?  Check out these around the Bay State.
Massachusetts Families – From mommy blogs, to local schools, find anything and everything you need for your family.
Massachusetts Charities – Want to find a great organization to donate to or volunteer with? Check out our list of Massachusetts and National charities.
Public Officials – Information from the President, Governor, police departments, mayors, senators, representatives, and many other national and local public officials.
We're always following new accounts and adding to these lists so be sure to check back!  Is there anyone we might have missed? Let us know in the comments!