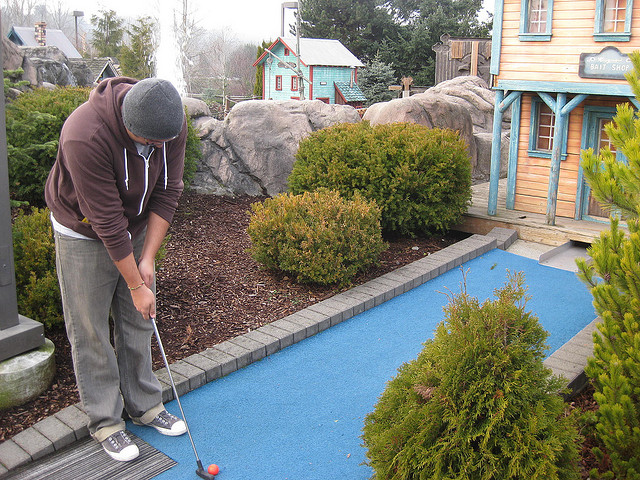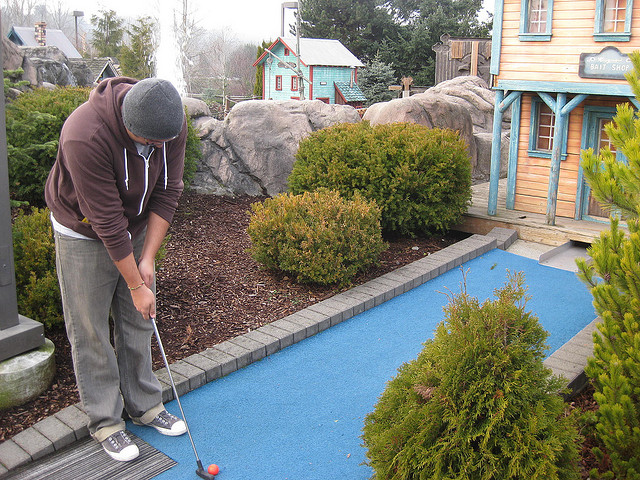 Mini golf is one of those fun summer activities that doesn't seem to get old no matter what age you are.  It's a fun family outing, date night, or a fun time for a group of friends.  Who doesn't love the thrill of competition and trying to make ridiculous shots through winding tunnels, drops, or giant windmills crushing your hopes for a hole in one?  Sounds like a blast right?  Check out our list of some of the top golf courses in the Bay State and don't miss your chance to get a round of mini golf in before the summer ends!
Golf On The Village Green – This course is perfect for the history buff in your family!  Their unique setup is themed after colonial American history so it'll be an educational adventure as well!  Located in Natick, this course is not too challenging so if you're going with little ones it's perfect.  They will also enjoy the arcade setup on site and mining for gemstones!  This would definitely be an affordable trip for the whole family, and a good refresher on some history before they head back to school!
Max's Country Golf – Located in Tyngsboro, this golf course has everything from batting cages, to bumper boats, to a driving range, to Richardson's ice cream!  Of course there's a huge mini golf course with 18 holes and the largest man-made waterfall in the Northeast! The course is mainly outdoors but eventually you get to play through a cave and indoor barn.  There's great music to listen to along the way and even different fish, rabbits, and goats on site! Parents, want to just drop the kids off?  There are plenty of things to do nearby, including the Pheasant Lane Mall, AMC movie theater, and tons of restaurants all less than a mile away.
Monster Mini Golf – This golf course is actually a chain and has multiple locations throughout the Bay State!  Locations include Danvers, Fairhaven, Norwood, and Seekonk and this is a fun spot for the whole family!  Their course is described as being easy enough for children to play but still challenging for adults.  This indoor monster-themed course is perfect for a rainy day, and it's even glow in the dark!  Their in-house DJ will keep you entertained during your game and afterwards don't miss out on their arcade games!
Pirate's Cove – Located in South Yarmouth, this mini golf course has won tons of awards, including "Best Family Attraction" in the entire state by Boston Magazine and is a must-see if you're down the cape!  There are two pirate-themed, 18-hole courses to choose from, the Captain's Course or Blackbeard's Course!  If you have time why not try both?  After your game, stop by the "Pirate's Cove Marketplace" for an ice cream, some pirate gifts, and Blackbeard's Arcade!
After hearing about all of these awesome courses, how can you resist a round of mini-golf before the summer ends?  It's a fun way to spend some time no matter how old you are, and a good way to work up an appetite before cooling off with some ice cream!  Enjoy the rest of the summer and if you visit any of these courses be sure to let us know how you liked it!
Photo By: Brenna