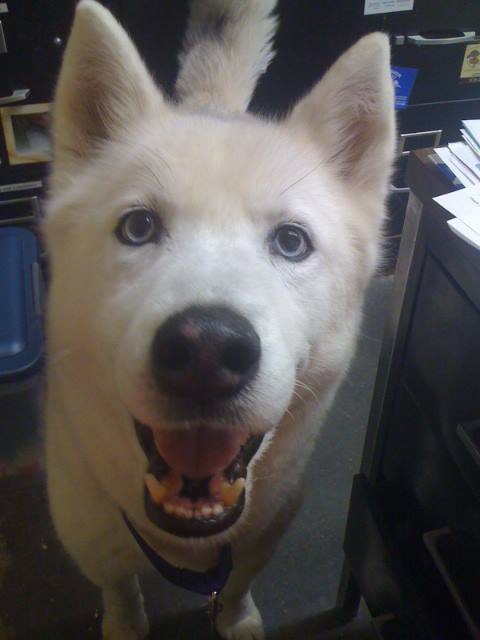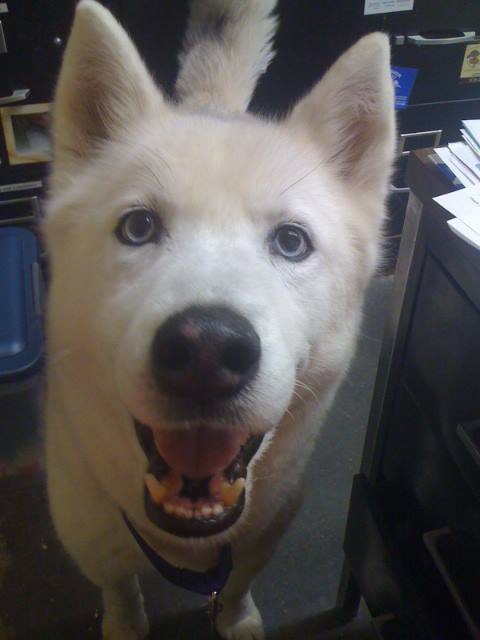 Happy Furry Friend Friday everyone!  Today I got to sit down with this handsome boy named Bruschi, up for adoption at the Lowell Humane Society.  Bruschi is an 8 year-old husky/shepherd mix and has had a rough few months, he's currently recovering from a leg injury after being hit by a bus!  This cutie is a trooper though and took some time to chat with me this afternoon.
So Bruschi, I'm glad to see you're recovering!  What is your favorite way to spend the day?
Thank you, I'm feeling a lot better and have more pep in my step every day!  My favorite thing to do is be around people though.  I love my friends here at the shelter and they even let me hang out in the office with them sometimes!  I would have to say that is my favorite way to spend the day, I don't like to be alone for too long.  I'm also talented too!  I'm a very good singer and if you start to howl, I'll howl right along with you!
I know you're an older guy and are very mature, but do you ever take some time to play with toys?
I love playing with toys no matter how old I am!  My absolute favorite toy is a squeaky plush ball that I bring everywhere with me!  When I do have to be alone, having my toys makes me feel a little better.
Do you like to go for walks?
I actually just started going for walks and I'm doing great!  I can't go too far yet, but I'm building up my strength as we speak.  I have more pep in my step every day and am feeling better than ever.
What about fears?  Is there anything that scares you?
Not that I can think of, I'm not trying to brag but I'm a pretty tough guy, I am part shepherd and husky after all!
What do you think would be the perfect family for you?
Well, I would love to be with someone that would be home a lot to give me attention and pet me.  Maybe a retired couple looking for a companion or a family with a lot of kids to play with me!  I'm a friendly boy and would get along with almost everyone, except for other animals.  I would have to be the only pet in my new home because I don't like to share the spotlight and want all of your attention for myself!
Bruschi, why do you think pet insurance is a good thing for all pet parents to consider?
Well, as I've seen in my own life, accidents happen and you never know when they will be so it's hard to budget for something unexpected like that.  I was very lucky here at the shelter because after I was injured I had a lot of nice people taking care of me!
Bruschi's story is a perfect example of why pet insurance is a great investment.  He was unexpectedly hit by a bus and if that were to happen to any pet, the vet bills would be pretty high.  If you have pet insurance, the majority of the costs for treatment would be covered!  As all pet parents know, our furry friends can always find a way to get into trouble, whether it's something as harmless as going through the trash, or getting loose and winding up in the wrong place at the wrong time like Bruschi.  Call us for a free pet insurance quote today and protect your furry friend and your wallet from the unexpected.