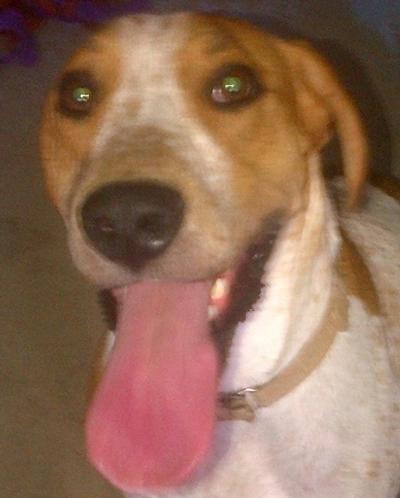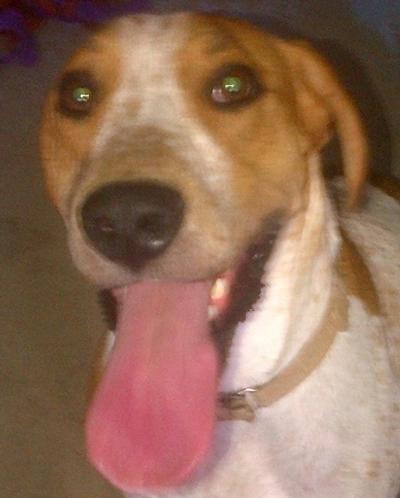 Today is an extra exciting Furry Friend Friday because we're about to kick off a long weekend with family, friends, and of course food!  To get your weekend started off on the right foot, check out our interview with Opie, a 2 year-old redtick coon hound up for adoption at Greyhound Friends, Inc.
So Opie, I hear you're not originally from Massachusetts, how do you like it here so far?
Well it's very different from Kentucky, which is where I'm originally from, but I have to say I love it here so far!  Everyone here at Greyhound Friends is so nice and they took me in even though I wasn't a greyhound! How awesome is that?  I've had a good time here so far, but am really excited to find my forever family because I've been at the shelter for 2-3 months now and would love a home of my own!
What's your favorite way to spend the day?
I love going on walks, I'm still a little bit of a puppy and I'd say I have a medium energy level, I love being outside and walking along the treeline near the shelter, there's a meadow that I get to explore too and that's nice.  I also love being around people whenever I can!
Do you have a favorite treat?
I'll take whatever I can get when it comes to food, I love to eat anything and everything!
What about fears, is there anything that scares you?
Nothing I can think of off the top of my head, I like to think I'm a pretty tough guy.
What do you think would be the perfect family for you?
I really get along great with people of any age! I'm great with kids but since I can still be a little rambunctious sometimes I would probably be better in a home with older kids.  I even love other dogs so if you already have a pet I'm sure we would get along great!
Why do you think pet insurance is a good thing for all pet parents to consider?
Well, coming from Kentucky to Massachusetts I've met a lot of people and animals and seen accidents happen where pets get hurt or eat something they shouldn't have and their owners have to come up with  a lot of money!  Pet insurance just seems like a good idea because it protects your pets like every other member of your family!
Our pets are family, so they should be protected like it.  Pet insurance provides peace of mind and allows owners to rest easy knowing that should any unexpected health issues come up, they won't have to break the bank on vet bills.  It's also surprisingly affordable, call one of our agents today for a free quote!