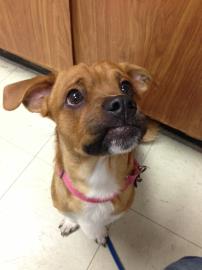 Happy Furry Friend Friday everyone!  We're back with another interview to get your weekend started in the right direction, today I got to chat with Boo Boo, a 1 year old Pekingese/Shiba Inu mix up for adoption at the Lowell Humane Society!
Hi Boo Boo!  Could you be any cuter?!  Thanks for taking the time to sit down with me today!
Oh you're too kind, it's my pleasure to be able to do this!  I love being around people, so when I heard about the opportunity, I jumped at it!
Well what's your favorite thing to do during the day?
Well I'm still a puppy so I'm pretty active, I love going on nice long walks!  I'm a fast runner, and here at the shelter I get to run around with the other dogs, so that's fun.  I'm also a big people person, once I get to know them (I can be a little shy at first), but I love cuddling up on a nice warm lap after a walk!
Do you have a favorite toy?
I like playing with all toys!  If I had to choose a favorite I would say those plush squeaky toys, they're awesome and I love the noise they make!
What about a favorite treat?
I LOVE cheese, it's my favorite by far!  I also love ice cream, but since those are both people foods I don't get my paws on them as often as I would like.
Is there anything that scares you?
Well, I'm not much of a tough guy, and I'm pretty shy to begin with, so I get really nervous around big dogs or hyper dogs that I don't know.  I'm on the smaller side, and those bigger guys just intimidate me.
So what do you think would be the perfect family for you?
Well I could fit in at a lot of places, I'm good with kids as long as they are dog savvy and respectful, I could even go to a home with cats!  When it comes to other dogs, I would be alright with another little one like myself, as long as they are calm.  I would like to go somewhere that I can be active and go on lots of walks, or run around a fenced in yard.  I would also like to find someone that can be patient with me, like I said I can be pretty shy until I get to know you so I hope I can find a forever family that will help me come out of my shell!
Boo Boo why do you think pet insurance is a good thing for all pet parents to consider?
Well pets are part of the family, and when you already have a human family it can be expensive!  I can only imagine how much it would cost to pay for some unexpected vet bills.  Pet insurance is an affordable way to make sure your pets are protected like every other member of your family.
When it comes to vet visits, pet parents may dread it just as much as their pet.  Not only is it hard enough to watch our furry friends suffer, it's hard to come up with a huge amount of money to pay their bills!  Pet insurance is surprisingly affordable and can really be instrumental in getting the best possible care for your pet, be prepared for anything and call one of our agents today for a free quote!