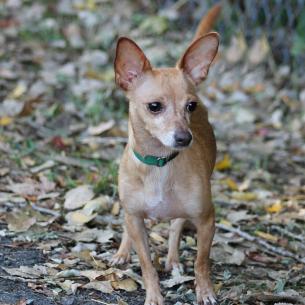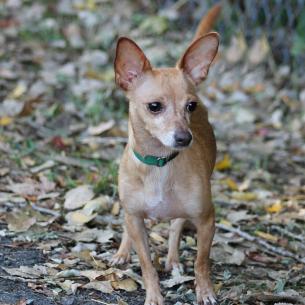 Happy Furry Friend Friday everyone!  We're so excited for the upcoming long weekend, and we're here to kick it off right with another interview.  Today I got to chat with Chichi, this cute little girl is up for adoption at the Northeast Animal Shelter in Salem.  She's a 7 year-old chihuahua mix who is ready for her forever home!
So Chichi, I hear you originally come from Florida, how are you liking it up here in Massachusetts?
So far I'm loving it!  I love the fall weather, I never really got to experience the seasons in Florida so this is a nice change!
What's your favorite way to spend the day?
Well I love cuddling, I'm a great lap dog and even like to climb up on your neck sometimes!  I also like to go for walks, even though I'm 7 years-old, I'm still an active little girl!  I also like to play with toys!
Do you have a favorite toy?
Well here at the shelter I love playing fetch and chasing balls around the yard, I'd have to say those are my favorite.
What about treats?
I'm a total food hound, I love anything and everything I can get my paws on!  At the shelter I get those Pup Peroni treats a lot and those are awesome!
Is there anything that scares you?
Not anything I can think of, I'm not a very skittish dog, but I'm a great watch dog and will always bark and let you know when someone is at the door.  Sometimes I bark at other dogs too but it's not because I'm scared of them, I actually think I'm pretty ferocious!
What do you think would be the perfect family for you?
Well like I said, I'm still active so I would like to be with a couple or a family with older children that could bring me on walks.  I'm a great companion, cuddle buddy, lap dog, best friend, watch dog, you name it!
Why do you think pet insurance would be a good thing for all pet parents to consider investing in?
When I finally find my forever home, I would consider the people there my family, and I would like to think that they consider me family too!  Pets should be protected like all members of your family when it comes to our health.  Plus, the vet can be pretty expensive if you have to pay a huge bill unexpectedly.
Chichi is wise beyond her years, and she still has a lot of great ones left!  Pet insurance is an easy way to protect your furry friend and you'll be ready for any unexpected expenses when it comes to their healthcare.  Give us a call today and get a free quote, it's surprisingly affordable and will leave you resting easy knowing your best friend is protected, just like the rest of your family.