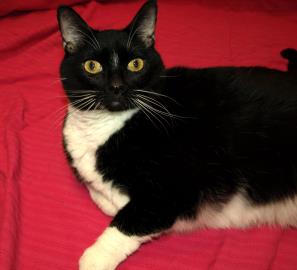 Friday's are always fun when we get to interview a new furry friend!  Today I got to chat with Jinxy, an 11 year-old girl up for adoption at the Lowell Humane Society.  This girl loves to cuddle and has been at the shelter since November, so she is definitely ready to find a forever family to call her own!
So Jinxy, what is your favorite way to spend the day?
Well I'm an older gal so I like to relax a lot, my favorite way to do that is by laying near the window with my belly up in the air and soaking up some sun.  I love being around people and I absolutely love being petted, but not picked up.  As much as I like to relax, I still enjoy playing with my toys every day!
Do you have a favorite toy?
I love my scratching post!  I mean I really love all toys, but if I had to choose a favorite, it would be my scratching post for sure.  I also love catnip, so if you have that and a scratching post too, you might be my new best friend!
Is there anything that scares you?
There isn't really anything that scares me, but there are things that annoy me, such as other animals, I would prefer to be the only pet in my new home.
What do you think would be the perfect family for you?
Well for starters, one where I would be the only pet.  Other than that my only request is for a nice, sunny spot by the window where I can relax and nap, okay and maybe a few toys to play with too.  I love all people, big and small, old and young.  I'm a smart girl and am fully trained, and I'm very affectionate, I would love to find a home sooner than later!
Jinxy why do you think pet insurance is a good thing for all pet parents to consider?
Well I'm an old and wise lady, and I know that pet insurance is a good option because it means you're prepared for the unexpected, and it's always better to be prepared than unprepared.  Whether pets are young or old, we can always get sick or have an accident when we least expect it.  Pet insurance would ensure that we could get all the vet care we need without breaking the bank.
When our pets have an unexpected accident or illness, of course we want to provide them with the best possible care, but that can be hard to do without breaking the bank.  With pet insurance, you can make sure that your furry friend can get the care they need without putting you in debt.  Call one of our agents today for a free quote and take the first step to protecting your furry friend!