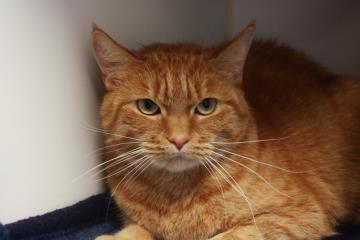 Forget Klondike bars, what would you do for a Klondike cat?  It doesn't take much, this 7 year-old girl just wants a loving home and a warm lap to sit on.  She's up for adoption at the Lowell Humane Society and is a shy but friendly girl who's ready to find her new best friend!
So Klondike, what's your favorite way to spend the day?
Well I love being with people, and once I warm up to someone I love cuddling on their lap.  I can be shy at first, but with a little bit of time and patience I'll never leave your side!  I also LOVE to sit in my cat house, it's my favorite hide-out and makes me feel safe.  Sometimes I like to curl up in a blanket and just stay in there for the afternoon, but I still poke my head out whenever someone gets close, just so I can see what's going on.
Do you have a favorite treat?
Would you believe it if I told you that I love Klondike bars? No? Well you're right, even though my name is Klondike I'm not a fan of the ice cream bars, they're too cold if you ask me.  I would much rather have some tuna!
Is there anything that scares you?
Well I do get nervous when there are loud noises, like loud bangs, screams, thunder, things like that.  I much rather prefer peace and quiet.  The shelter life has also been tough on me, I've been here since January and I'm definitely ready to be in a warm home where I get all of the attention to myself.  The shelter noises can be a little scary sometimes, but the staff here are so nice and let me hang out in the office with them, which is a big help!
What do you think would be the perfect family for you?
Since I'm afraid of loud noises, I would definitely want to go somewhere quiet, so that probably means no children as they would make me nervous.  I would be a great companion, so for anyone that's looking for a new best friend, I'm your girl!  Other than quiet and adults only, I could go anywhere.  I love to curl up next to my favorite humans and relax, it's the simple things in life that make me happy.
Klondike, why do you think pet insurance is a good thing for all pet parents to consider?
I'm a pretty healthy girl, but even the healthiest of us need to go to the doctors.  Whether we get sick or have an accident of some kind, you can never predict these things but you can be prepared for them with pet insurance.
Klondike makes a good point, and it's always better to be prepared for the unexpected than to be left with a vet bill that will clean out your savings account.  Pet insurance is a great way to make sure you can get your furry friend the vet care they need without breaking the bank.  Call one of our agents for a free pet insurance quote today!