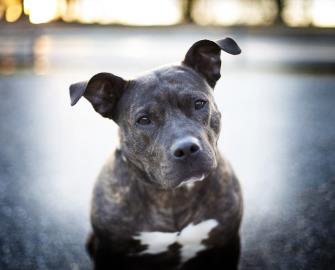 As if Friday's weren't exciting enough, today we're here with Lilly to brighten up your day even more!  This adorable, 7 year-old girl is up for adoption at the Lowell Humane Society, and even though she loves her friends at the shelter she's ready to find a family of her own!
So Lilly, what's your favorite way to spend the day?
Hmm where should I start? I love playing outside, that's probably my favorite thing to do.  What?  Did you think that because I'm 7 years old I'd be a couch potato?  I'm still very active and love playing fetch and going for walks!  Now that the weather is warming up, I love laying in the grass and soaking up some sun too.  If I had to choose my all-time favorite thing to do though, it would be to be around my people, I'm a true love bug and really warm up to people once I get to know them!
Since you love to play, do you have a favorite toy?
It's so hard to choose!  I love all toys but I'd have to say I'm most partial to things I can play fetch with, like balls and frisbees.  Kong toys are also fun, and who doesn't love those plush squeaky ones?  The only thing is that I tend to chew on my toys, so they have to be sturdy if they're going to last long around me!
Is there anything that scares you?
I do tend to get nervous around loud noises.  I know I look tough, but I'm a real softie on the inside.  I can also be a little shy around new people, I just like to take my time to get to know new faces but as soon as I warm up to them, I'll be begging them for belly rubs!
What do you think would be the perfect family for you?
Well I really want to find the perfect forever home, and I've been here at the shelter for over 2 months now so it's taking a little longer than I would have hoped.  I do have some specific requirements, such as being the only pet.  I get a little nervous around other dogs and don't really like small animals like cats.  I would also do best in an adult-only home just because of my size.  Other than that I would really appreciate a quiet home without loud noises that scare me and a home where I can get plenty of exercise.  I know that's a lot to ask for, but I promise I'm worth it!  Plus I'm fully trained and housebroken, so my family wouldn't have to deal with puppy antics, I'm way too mature for that.
Lilly, why do you think pet insurance is a good thing for all pet parents to consider?
Well I know I'm no expert, but I think that as a pet part of my job is to protect my family, and I hope that they would protect me if I needed it!  Pet insurance seems like a good way to make sure your pets are protected if they ever needed vet care that would otherwise be extremely expensive.
Lilly is a very smart girl, and we couldn't have said it better ourselves!  Pets are family, and they do their best to protect us so as owners it's our job to return the favor!  Call one of our agents today for a free pet insurance quote and take the first step in protecting your furry friend!