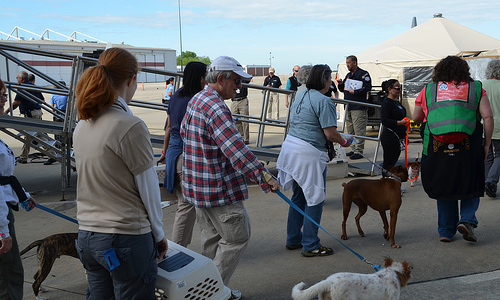 Hurricane season is coming our way, but emergencies can happen at any time of year, and it's best to be prepared for them.  Every family should have a plan should disaster strike, and that plan should also include your furry friends!  To help you and your pets be prepared for anything, we've listed some tips to keep in mind should disaster strike.
Make an emergency kit for your pet.  Make sure it is easily accessible and travel-ready if you need to move quickly.  Your kit should include leashes, harnesses, carriers, and anything else you need to safely and securely transport your pet.
You also want to make sure you have a first aid kit, any medication your pet needs, 7 days worth of food and clean water, bowls, and kitty litter/box for cats.
If you have room and can easily carry them, bring toys and a bed so that your pet can have some comforts of home, times of disaster can be as frightening for them as it is for you.
Make sure your pet's ID tags are up to date with your contact information.  It's also a good idea to list your contact info on any pet carriers you may have, and consider a microchip for your pet if it doesn't have one already.
Know where to bring your pet.  Unfortunately, most emergency disaster shelters are not permitted to take pets, due to safety and health regulations, so you'll want to know where you and your pets can seek shelter in case of an evacuation.  If it's not safe for you to stay behind, it's not safe for your pets either!
Ask friends or family outside of the disaster area if they would be able to shelter you and your pets.
If that's not an option, call motels and hotels outside of your area and see if they are pet friendly, if so ask about any type of restrictions they may have when it comes to size or number of pets.  Even if some hotels aren't pet friendly, they may make an exception during an emergency.
You can also ask boarding facilities, vet offices, and animal shelters if they are able to care for pets during an emergency.  Once you know what your options are, keep a list of them along with phone numbers and email addresses with your emergency kit.
Make sure you have all important documents such as medical records stored in a waterproof container.  You should also keep a list of any and all medications, special routines, and important phone numbers on hand.
It's also a good idea to keep recent photos of your pet on hand should they get separated from you during a crisis and you need to create lost posters.
With these tips, you and your furry friends will be prepared for anything!  Although we always hope that we won't be nearby when disaster strikes, it's good to be ready just in case.  We always hope for the best, but need to be prepared for the worst!
Photo By: North Carolina National Guard