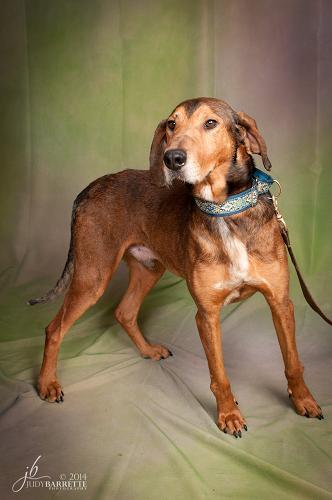 We know you missed us last week, but today we're back and sitting down to chat with Jonah!  This cute little boy is a 2 year-old hound mix up for adoption at Greyhound Friends, Inc in Hopkinton and is waiting to find his new best friend!
So Jonah, I heard that you've come a long way to find the perfect family, is that true?
You're right!  I'm originally from Kentucky, I was found as a stray and brought to a local shelter, but they thought I would have a better chance of being adopted up in Massachusetts, so here I am!
What's your favorite way to spend the day up in the Bay State?
Well I've only been here for a month, but I love it already!  One of my favorite things to do is to play outside with all of my friends here.  I'm great with other dogs and we have a whole acre here that's fenced in so we can run and play all day long!
Do you have a favorite toy that you like to play with?
Hmm, that's a tough one but I really love rawhide bones, so I guess that's like a toy and a treat all in one!  Does it get any better than that?
Is there anything that makes you nervous?
I would say that loud traffic noises make me nervous, being from a rural area like Kentucky, I'm not really used to hearing loud noises like that all the time.  Plus us dogs have extra sensitive hearing, so car horns and sirens sound much louder to us than to you humans.
What do you think would be the perfect family for you?
Well, I'd need to go to a family that could handle my activity level, I'm not hyper or anything, but I am still young and would say I have a medium activity level.  I'd love for my new family to bring me for walks and on different adventures!  I get along great with other dogs if you already have one, and I'm great with kids!  I love all kids but would probably do best in a home with children ages 10 and up, just because of my size and activity level.  I'm a great companion and very clean, and I have a really unique widow's peak which I think makes me extra cute.
So Jonah, why do you think pet insurance is a good thing for all pet parents to consider?
Well, I've met a lot of furry friends during my travels across this country, and a lot of them needed vet care that came as a surprise to them and their families.  It was bad enough for them getting sick or hurt, but then their families had to pay huge bills!  It seems like pet insurance is a good way to make sure pet parent don't get stuck with huge bills like that if their pets need to go to the vet.
Jonah may be young, but he's seen a lot, and he's right!  Vet bills can be extremely expensive, and if they're unexpected that can really put a damper on your bank account.  Pet insurance is an easy way to ensure your pet gets the care they need without breaking the bank.  Call one of our agents today for a free pet insurance quote and take the first step in protecting your furry friend!