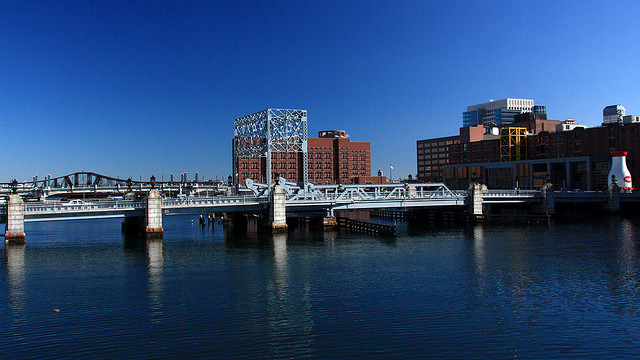 We can't stop raving about our neighbors here in the Fort Point section of Boston, there are so many great bakeries, restaurants, shops, and more, all in the same neighborhood as our office!  Our awesome sales agent, Jeff is here to tell us about a few of his favorite spots in the area:
The Club by George Forman III–
Jeff loves this addition to the Fort Point Chanel. This new gym features over 130 classes, great trainers and fun workouts. The Club is located just a quick minute away from our office making it a popular place to work out for our team at MassDrive. This boxing gym created by George Forman offers unique training packages that are sure energize and excite you. If boxing isn't your thing, The Club offers a variety of work outs from yoga, to spinning to circuit training.
Located on Congress Street, this awesome lunch spot is worth the walk from our office.  They offer delicious, healthy, and filling meals.  From creative salads to bowls, Sweet Green offers only high quality, nutrient filled, organic ingredients.  If you're feeling a little creative, make your own concoction choosing from a variety of ingredients including wild rice, spicy sunflower seeds to and baked felafel. Next time you're there, try Jeff's favorite signature dish, the Avocobbo salad.
Papagayo –
This delicious Mexican restaurant really knows how to mix things up.  Jeff loves that they take great classics up a notch with dishes like Maine lobster guacamole and chili dusted calamari. Their extensive creative menu also includes a variety of street tacos, fajitas, and burritos. And lets not forget they mix up an awesome after work Margarita!
Winner of 2014 Boston Magazine's Best Neighborhood Bar South Boston Award, Lucky's Lounge Bar's unique style makes its one of a kind. From the live music, to the Sinatra tribute band, this place provides an awesome old school atmosphere. With a menu full of great comfort food, and a fun 50s vibe, its no surprise Jeff loves this place.
When your sweet tooth needs it's fix, nothing beats Flour Bakery. From brioche, to cookies, to amazing sticky buns, to gourmet cakes, and much more, this place has it all. Jeff say's when he stops by at lunch for their gourmet sandwiches and salads, it's too hard not to leave with at least one delectable dessert. Our office here at MassDrive loved our catered experience with Flour Bakery. They also have plenty of gluten free options too!