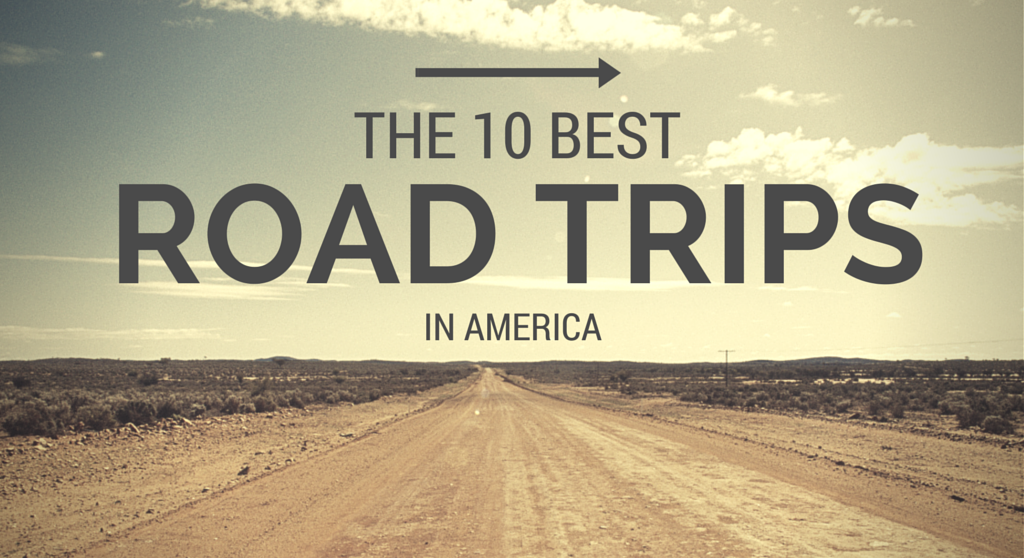 Have you planned a summer vacation yet? If not, it's the perfect time of year to hop in your car and take a road trip! Make the most of your summer vacation by driving your way through America's beautiful beach towns, rugged cliffs, stunning mountains, and breathtaking scenery. America has such a wide variety of landscapes and cultures that you're sure to have an unforgettable experience with any of these amazing adventures.
Pacific Coast Highway, California: About 300 Miles 
The Pacific Coast Highway spans the entire length of the West Coast with amazing views of the Pacific Ocean and mountains. Heading south to north will guarantee amazing sites the entire way for the driver, but either way you will not be disappointed. Starting in Southern California, you'll wind your way though a skinny road with ocean views on the left, and mountains on the right. The rest of the world will seize to exist. Once you make your way up to the Big Sur, the soaring redwoods and magnificent mountains will become more stunningly beautiful. Eventually you will cut through San Fransisco's historic town of Fisherman's Wharf. With even more to see, this is a trip you want to take your time with.
Going-to-the-Sun Road, Glacier National Park, Montana: About 50 Miles
Middle American can be often forgotten about with the coasts getting most of the attention. But, Going-to-the-Sun Road will make you forget about oceans and the beach. This amazing road cuts through a famously beautiful forest, with lakes, glacial-covered mountain peaks and deep ravines. This tiny two-lane, east-west drive winds through Glacier National Park and promises amazing views from every seat in the car. There's also a good chance you'll come across wildlife!
Blue Ridge Parkway, Virginia and North Carolina: About 450 Miles
This long scenic drive is noted for its beauty. The National Park Service owns the land on either side of the skinny parkway. Cutting through a major mountain chain, part of the Appalachian Mountains, there is plenty to pull over and explore on this long journey. From waterfalls, to hiking trails to peaks over 6,000 ft, to various national parks, Blue Ridge Parkway has so much to take in. For those who can wait, the best time to take this journey is during the Fall- where all the leaves change to beautiful autumn colors.
Cape Cod, Massachusetts: About 160 Miles

You may be a seasoned vet of Cape Cod, having spent your summers there growing up. But "the Cape" stretches across a 160-mile circuit, and there might still be plenty for you to discover. Taking route 6A will take you past the quaint towns of Sandwich, Yarnmouth, Orleans and more. Start in Sagamore, and then head towards to oldest town in the Cape, Sandwich. Continue through the cape and stop at Nickerson State park to hike, swim and bike ride. As you make your way to the end in Provincetown, be sure to enjoy the wonderful restaurants and night life.
Red Rock Country Arizona: About 128 miles
Hit the road on interstate 17 north in Phoenix to see impressively preserved ancient cliff dwellings. One of the cliff dwellings, the Montezuma Castle cliff dwelling, was declared one of the first four national monuments in 1906 by Theodore Roosevelt.  The great trip is an easy way to experience and see a real desert.  After you've taken in the sites, cool yourself down from Arizona's hot sun be heading to Slide Rock State park. Hop on 179 North and soon you'll be sliding down natural water slides carved into the rock!
Route 66. Chicago to Southern California: About 2,400 miles
Route 66 takes the spot for our longest trip on the list. It would take days to complete it but would be an incredible adventure. One of the original highways, it starts from Chicago, cuts through Missouri, Kansas, Oklahoma, Texas, New Mexico, and Arizona before ending at Santa Monica, California. This iconic route gives us a look into bygone America, mom-and-pop diners and a simple way of life that has not changed in decades. From the long list on unique places to visit on this route, the Cadillac Ranch tops as one the craziest to see with painted Cadillacs sticking straight of the ground!
Overseas Highway, Miami to Key West, Florida: About 120 miles
Want to feel like you're flying just feet above the ocean?? Drive the overseas highway. Starting in Miami, this above ocean highway connects the Florida Keys to the rest of the land. Half the time, it's just you and the water. Although this trip can be driven in 2 hours, take your time to stop by the seafood dives and tourist traps along the way. For an experience you'll never forget, take time to stop and swim with the dolphins at the Theater of the Sea in Islamorada.
Black River Scenic Byway, Michigan: About 12 miles
Often overlooked by ocean lovers, Michigan's Upper Peninsula provides an amazing road trip with thick forests, waterfalls and the wonderfully beautiful Lake Superior. The lake views and waterfalls can't be beat. While the byway is the official scenic route, road-trippers should venture off the route to really experience all the beauty this area has to offer. Following the old roads deep into the woods is the only way to see how beautiful this area really is.
Hill Country Hideaways, Texas: About 200 miles
A road trip to Hill Country Hideaways will wake you back to the wild wild west. From deep canyons, swift rivers and undulating sagebrush plains, you're sure to feel like you belong in an old western movie. Starting in San Antonia, which considers itself the "Cowboy Capital of the World," you'll eventually get your way around some of the coolest, and sparsest, places around Texas. Be sure to visit Utopia. As the name describes, it's a beautiful paradise with lakes, and rivers. At the end of your journey when you make it to Guadalupe Rivers, ride an inner tube down the river enjoying the warm sunshine.
Brandywine Valley, Pennsylvania and Delaware: About 12 miles
The Brandywine Valley might be a short trip, but that doesn't make it any less worth taking. This scenic countryside was home to the uber-rich American aristocracy of the 20th century. The narrow twisted roads loops through the scenic château countryside where wild flowers grow all around. These amazing summer estates belonged to families such as the Du Pont Family- who may have the most impressive estate on over 900 acres of gorgeous land. To complete this floral filled trip, make sure to visit Longwood Gardens, which includes 20 indoor gardens, an outdoor topiary and spring-fed lakes all on over 1000 acres of land.