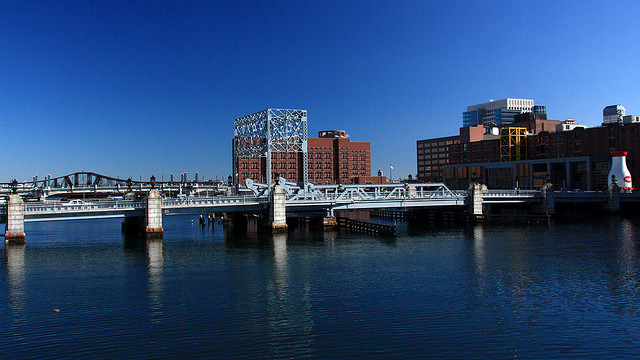 We can't get enough of the amazing restaurants here in the Fort Point Section of Boston! From Mexican, to French, to Vietnamese, Fort Point has something for everyone. Our fabulous customer service rep Chrissy is here to share with us a few of her favorite restaurants in the area.
Chrissy's favorite spot for lunch has to be Bon Me for its delicious food and great atmosphere. Starting with just one food truck a few years, Bon Me now has one of its own brick and mortar locations in Fort Point just a few blocks from our office. This unique Vietnamese restaurant offers sandwiches served on crusty baguettes, rice and noodle bowls, salads and much more. It can be hard to choose from the amazingly delicious and creative fillings ranging from spice rubbed chicken to roasted soy and paprika tofu, to Justin's Jamaican jerk chicken!
This delicious Mexican restaurant is Chrissy's favorite happy hour spot. She says the margaritas are "to die for" and food is so authentic. Her favorite items on the menu are the street tacos which she loves to pair with the one of the unique guacamoles. Papagayo also offers Karaoke brunch! Although Chrissy hasn't tried out this brunching experience yet, she is definitely planning on it!
Chrissy, as our fabulous customer service rep, is always helping our customers out and doesn't always have a lot of time to grab lunch. When's she's in a pinch, she heads to Mrs. B's café. Right around the corner from our office, this cute café has amazing premade breakfast and lunch options as well as a variety of made-to-order options including daily specials, soups, and a ton of snacks. Chrissy knows she can always depend on Mrs. B's Cafe for fast service and delicious food.
This upscale gourmet French restaurant provides a gorgeous rustic atmosphere, amazing cocktails, and an outstanding menu. With local sustainable ingredients and seafood, Chrissy knows she's always in for a treat when she heads to this modern interpretation of a classic Parisian bistro. From classic favorites with a twist, to completely unique one-of-a-kind dishes, this beautiful restaurant is a favorite for its fabulous food and amazing atmosphere.
Chrissy loves Freshii for its commitment to healthy and environmentally friendly food. With such a large variety of food, the options span from a fiesta style salad, to a spicy Thai burrito, to a Mediterranean inspired bowl. Chrissy says she gets really creative when customizing her lunch with all the awesome toppings such as mango, goat cheese, sesame seeds and so much more. With great coffee and breakfast options such as hot oatmeal, pocket sized breakfast burritos and fresh smoothies, it's the perfect place to for a healthy meal any time of day.