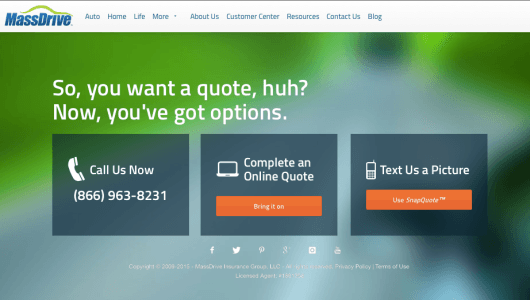 In the competitive insurance industry, here at MassDrive we compete with our commitment to technology and customer experience.  After our recent announcement of the debut of our own proprietary online quoting tool, Agency Checklist became intrigued.  They interviewed our CEO Bill Suneson to find out how this independent agency uses the power of the internet to drive its growth and success!
Bill Suneson, founder of MassDrive, opened his agency in 2009 at the start of "Managed Competition" precisely because of the benefits that he believed auto insurance deregulation in Massachusetts could bring to independent agents. And while many agents bemoan the arrival of direct writers in the Commonwealth, MassDrive welcomes the competition, believing independent agents actually have the upper hand over direct writers.

Why have your agency sell insurance online and by telephone only?

We believe consumers want to be able to buy online and do so conveniently. Consumers expect technology and that is what they are asking for. Studies show 71 percent of consumers shop online with most getting a quote in three different places. While some customers are still going to walk in to a traditional storefront [to buy insurance], the growth and opportunity is in getting to consumers shopping online.

Your latest has been the MassDrive online quoting tool, how did that come about?  

Consumers in other states have been able to compare rates online for several years and our mission has always been to provide MA drivers with the same opportunity.  Utilizing Boston Software's comparative rater, we built our own API over their carrier rating engine to better manage and control the consumer experience.  Boston Software has been a great partner in this initiative and we could not have done it without their support and innovation.
Read the full interview MassDrive: A Traditional Agency Using Technology to Drive Its Success by Julia Ybarra, on Agency Checklists.