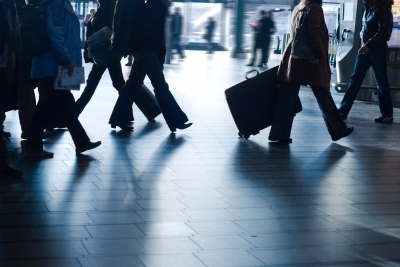 Massachusetts has many transportation options that can bring you all over the state, but one of the most popular destinations is Logan Airport.  It can also be difficult to find and confusing to navigate if you have never been before.  Don't get lost in the shuffle, make sure you know how to get to Logan and what options you have available to you from anywhere in Massachusetts.
If you're coming to Logan from Boston, public transportation is one of your best options.  It is both budget and environmentally friendly and is easy to navigate from any part of the city.  There are two MBTA lines that will take you to Logan, the Blue and Silver.  The Blue line provides T service to Logan and riders can get off at Airport Station and then take advantage of Logan Airport shuttle services to get to all terminals.  The Blue line also connects to the Green line at Government Center, the Orange line at State Street and there are currently plans in the works to potentially extend it to connect with the Red line.  The MBTA Silver line provides bus service from South Station to Logan airport which is especially convenient for travelers coming from the commuter rail.  Charlie Tickets can be purchased to pay for both lines.
The most scenic option for transport to Logan is via the MBTA Commuter Boat.  It leaves daily from Quincy but is only open on weekdays in Hull.   It is $12 for a ticket (from both Quincy and Hull) which is a bargain for a harbor cruise.  Riders can enjoy the open seas and upon arrival get transported to all terminals via the Massport Route 66 Shuttle Bus which is free. There are other options for water travel to Logan as well including City Water Taxi which has connections to 15 Boston landings, and Rowes Wharf Water which provides exclusive service from Rowes Wharf/Boston Harbor Hotel to Logan.
Getting to Logan from outside of the city is a bit more complex and time consuming.  Driving is always an option, but if you would rather avoid it opt for a bus.  The Logan Express provides direct service to Logan from Braintree, Woburn, Peabody, and Framingham.  It is $22 round trip for adults and parking at all stations has been lowered to $7 per day.  It takes about 30-45 minutes of travel time to get to Logan from each station, although riders should allow for extra time during rush hour.  For riders that do not live in close proximity to these stations, there are many private bus companies that provide service to Logan including the Boston Express, Concord Coach Lines, and the Plymouth and Brockton Street Railway Co.
If driving is your only option, getting there isn't too difficult.  Directions to Logan are as follows:
From the North – take I-93 South to Exit 24B to the Callahan Tunnel.  Follow that until you reach 1A North to Logan.
From the South – take I-93 North to exit 20, this will bring you to I-90 East and the Ted Williams Tunnel.  You then take I-90 East Exit 26 to Logan.
From the West – take I-90 East to the Ted Williams Tunnel and then I-90 East Exit 26 to Logan.
For parking options for Logan Airport, and rates click 
here
.
Getting to Logan is easier than ever because there are so many options!  Whether you are coming from the North, East, South or West, there is a bus, boat, car, or subway that can get you there! For more information regarding transportation to Logan visit Massport's website.
Photo by: healingdream