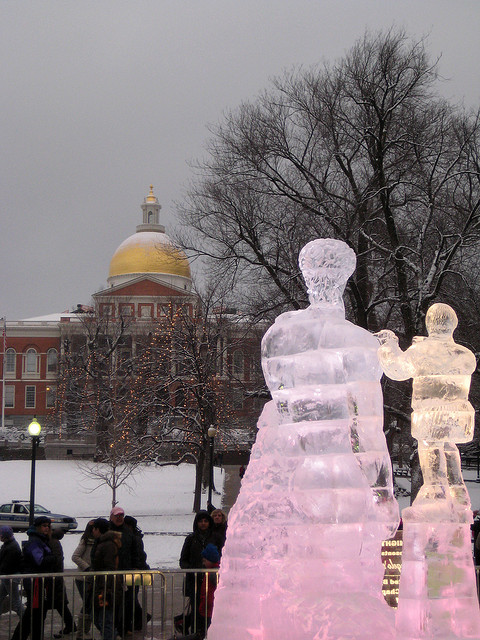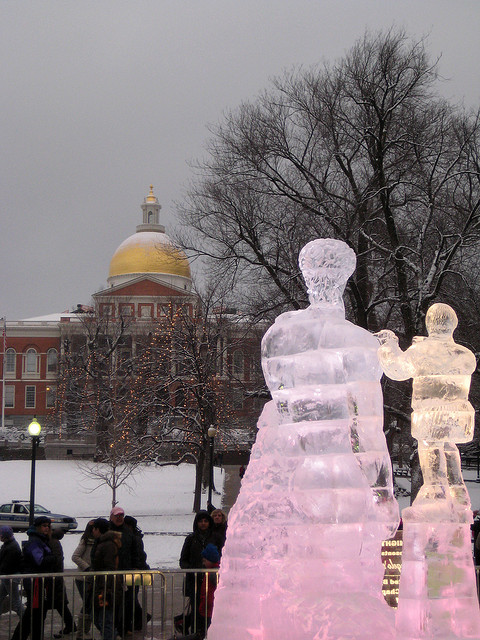 No plans for New Years Eve yet?  No worries, we've got you covered!  There are a variety of events going on in Boston for the big night and something for everyone!  Whether you're celebrating with your family, friends, or significant other there is a party suitable for all ages.  Step out into the city and watch some fireworks, take in live performances, participate in a champagne toast in honor of 2013, or all of the above!
First Night – This event has been a staple of New Years Eve for 35 years each year is bigger and better than the last!  It begins at 1 PM and ends at midnight with a stunning fireworks display over the Boston skyline.  Perfect for families, this event focuses on building community and celebrates diversity through the arts.  There will be live performances throughout the day, art displays, and huge ice sculptures throughout the city.  This event is the oldest and largest of its kind in North America and typically attracts over 1 million spectators.  Some of the major events during the day include a Family Festival at the Hynes Convention Center and a Grand Procession down Boylston St.  All outdoor events are free but to gain access to the indoor events you must purchase a First Night button.  They cost $18 (children under 4 are free) and are available at dozens of locations which you can find here.  Take a ride into the city for this all day festival and kick off the New Year with a bang!
Timeless a Bond Evening – If you were a fan of the latest James Bond movie Skyfall, this event is the perfect way to begin the New Year.  This black tie affair is being held at the Marriott,  275Tremont St. Boston and begins at 8:30 PM  December 31st and ends at 2 AM January 1st.  It is hosted by Miss USA title holders and will bring back the old Hollywood glamour of days gone by with a red carpet, music, decor, and professional photographers that will make you feel like you have stepped right into a scene from a James Bond movie.  There will be party favors, giveaways, and a contest with prizes for the best James Bond look alike and female spy.  Watch the live projection of the midnight countdown from Times Square while sipping on some champagne with friends and ring in 2013 the way Bond himself would.  A variety of different tickets are available including VIP, Non VIP Early Admission, and After Midnight General Admission.  Tickets are 90% sold out so get them while you can!
Boston's NYE Crawl 'Til The Ball Falls Bar Crawl – Grab some friends and get to Battery Park at 33 Batterymarch St to sign up for one of the best bar crawls in Boston!  You may register at any time from 5 PM – 10 PM on New Year's Eve and tickets are just $15.  When you register you will get a wristband, cup, and bar crawl map that lists the drink specials times per venue.  Admission to bars is based on capacity so get there early to ensure a spot!  Stops along the way include Hong Kong at Faneuil Hall, Kitty O'Sheas, the Beantown Pub, and many more!
New Year's Eve 2013 At Guilt – If you're looking to get dolled up and hit the clubs for some drinks and dancing, stop by Guilt for the big night!  They're hosting a New Year's Eve bash with multiple bars and music from Erik Velez that will keep you dancing til the ball drops.  The maroon and gold themed decor gives the club a regal feeling and the massive dance floor ensures that there will be plenty of space to bust a move.  There are VIP and general admission tickets available and if you plan on watching the First Night firework's display head to Guilt afterwards because general admission tickets are only $10 after 12:30 AM!
Whatever way you want to ring in 2013, there is a party for everyone! On another note, please remember to party responsibly, use a cab or designated driver if you plan on drinking because New Year's Eve is one of the most dangerous nights of the year to be on the roads.  Also, be sure that you are properly insured should you be the victim of a reckless driver that night.  If you have any questions regarding coverage or would like a quote, give us a call or click MassDrive.  Our agents go above and beyond the get you the best price possible while making sure you have the coverage you need.
Photo By: timsackton