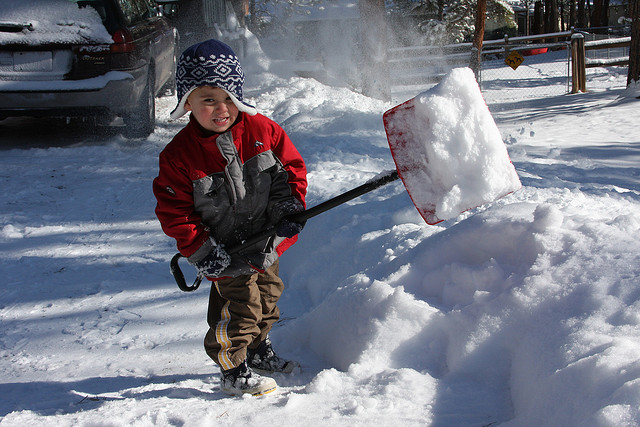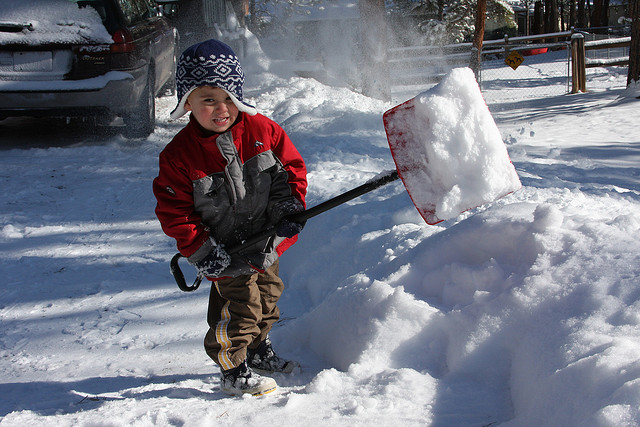 When you think of going outside to shovel, it may seem like more of an inconvenience than a potentially dangerous activity, but believe it or not people are injured shoveling every single winter.  Whether it's something as small as a strained muscle, or something as serious as a heart attack, injuries from shoveling are more common than you think, so keep these tips in mind and stay safe this winter!
Do not shovel if you're not capable.  If you are older, out of shape, overweight, have issues with back pain or a history of heart problems, you shouldn't be shoveling.  Save yourself the trouble and have a younger, healthier person do the dirty work while you make some hot chocolate indoors.  Another option is to purchase a snow blower, you'll still have to go outside in the cold to clear the snow, but you won't be at risk for straining your back or heart.
Warm up.  Like any physical activity, you're supposed to warm up your muscles and stretch before you begin.  Shoveling is no different.  It can be extremely strenuous especially if there is a lot of snow on the ground, so make sure to do some warm up stretches to loosen up your muscles before you begin.
Use the right shovel.  You don't want to use a shovel that is too heavy or with too large of a blade.  If you use a shovel with too large of a blade, your load will be extremely heavy and can put extra strain on your back and heart.  It's also a good idea to get a shovel with either a wooden or plastic handle, as metal handles can get too cold.
Bundle up.  It's important to wear the proper clothing when you shovel so you're not at risk for hypothermia or frostbite.  Make sure your head, hands, and feet are all covered.  Your winter boots should be water-proof, warm, high-cut, and provide good traction so you don't slip and fall.  It's also a good idea to wear clothing that allows perspiration to escape from the skin surface.  If the temperature is in the negatives, don't go outside to shovel until it warms up.
Pace yourself.  Like any physical activity, you need to pace yourself.  Even though you may want to get shoveling over with and get inside as quickly as possible, being safe is more important.
Make shoveling easier on yourself.  Push the snow to the sides of your driveway instead of lifting it, this makes it much easier on your back.  If you must lift the snow to get it out of the way, lift with your legs to avoid straining your back.  When you do throw the snow, do not throw it over your shoulder or to the side, face the direction you are throwing in, don't twist to the side as this can also strain your muscles.
Do not push yourself, if you're feeling winded or tired, take a break.  It's better to be safe than sorry and avoid a potential injury.
Take time to cool down when you've finished shoveling.  It's important to go inside to rest and warm up as soon as you've finished shoveling.  Make yourself some hot chocolate and relax with your favorite book or TV show to get warm and show your heart rate.
There's definitely more snow to come this year so keep these tips in mind next time you need to shovel and stay safe!
Photo By: oddharmonic