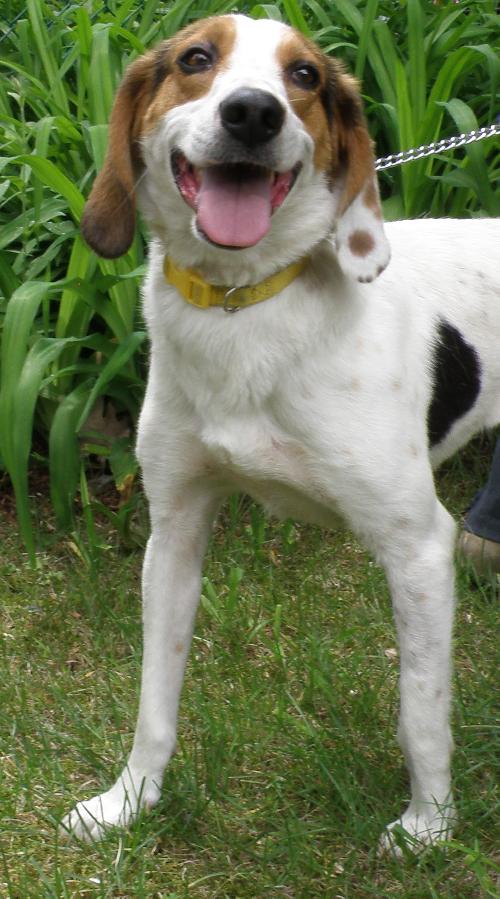 We're back with another cutie to make your Friday afternoon that much better!  Meet Daisy, she's certainly as cute as a daisy if you ask us!  This little girl is a 2 year-old hound mix up for adoption at the Sterling Animal Shelter and has been there for about a month now, so she's been waiting a while for the perfect family!
So Daisy, what do you like to do for fun?
I'm just your typical pup, I like the simple things like long walks where I can take in the smells and sounds of the great outdoors, playing ball, and hanging out with my favorite people.  I'm very affectionate and love getting extra attention and belly rubs!
Do you have a favorite toy you like to play with?
I'd have to say my ball, I love chasing it and it's so bouncy!  Like I said, I'm pretty simple and can be happy doing just about anything.
Is there anything that you're afraid of?
Nope!  There isn't much that can make this girl nervous, my previous owners thought that I was a little nervous around men, but I haven't been afraid of any of the men I've met here at the shelter.
What do you think would be the perfect family for you?
Well, if I could choose, I would love to go to a home with people that would take me on a lot of walks!  I would say I have a medium activity level, so I'm not very hyper but I still like to be out and about whenever possible.  Other than that, I would say I would do best in an adult-only home, it's not that I don't like kids, just because of my size I wouldn't want to accidentally knock them over or anything.  The other thing is that I would be best as an only pet, I don't really get along with cats, come on, can you blame me?  When it comes to other dogs I don't mind them but I would still prefer to be the only pet so I can have all of the attention!
So Daisy, why do you think pet insurance is a good thing for all pet parents to consider?
Well I know I'm young, and I've been lucky enough to be healthy and accident-free so far, but other pets aren't as lucky.  Some pets can eat the wrong thing, or come down with an ear infection, there are tons of different things that can land your furry friend in the vet's office, and land you with a huge bill.  Pet insurance sounds like a good way to prevent a giant, unexpected vet bill that will drain your savings account.
For such a young girl, Daisy sure is smart, and adorable of course!  We know she'll find her forever family soon, but she makes a great point about pet insurance.  No one wants a huge vet bill because their pet accidentally ate a chocolate bar or came down with an illness, so call one of our agents today for a free quote and find out exactly how affordable pet insurance can be!