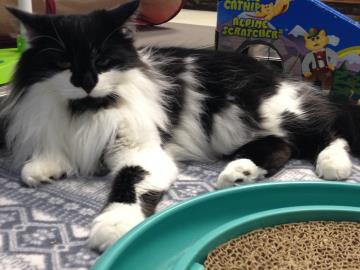 We're back with your Friday pick-me-up!  Our special guest for today's Furry Friend Friday interview is named Elvira!  This pretty lady is a 3 year-old cat who's up for adoption at the Lowell Humane Society, she's been there since June so she's definitely overdue to find a family of her own!
So Elvira, how does a pretty girl like you wind up in a shelter?
Well, I actually used to have a family, but they moved and unfortunately couldn't bring me with them, so I ended up here.  I came in with my brother, Merlin.  We've been together since we were kittens, so we're very close and would love to go to a home together, although it's not a requirement.
What's your favorite way to spend the day?
I'm still young so I'm very playful!  When I get really excited I do "happy paws" and roll on my back with my paws in the air while I play with my toys, it's pretty funny if you saw it in person.  After I've gotten my energy out, I enjoy sitting on window sills and just watching the world go by.  I also LOVE getting brushed.  Have you ever had someone just sit there and brush your hair?  Well let me tell you, it is amazing, especially for me with my long, luxurious fur!
It sounds  like you are a very fun lady!  Do you have a favorite toy to play with?
I really like chasing after laser beams, it never gets old for me!  I could chase after those all day, it's a great way to keep my girlish figure in shape!
Is there anything that scares you?
I hate to admit it, but I am very scared of dogs.  They're usually not that friendly towards me, sometimes they growl, or even try to chase me!  If you ask me, that's just plain rude.  Who can blame me though?  Wouldn't you be nervous if a giant, barking dog was chasing after you?  I thought so.
What do you think would be the perfect family for you?
I could really fit in with any loving family, as long as they could handle me being so active.  Like I said, even though it's not required, I would really really love to go to a home with my brother Merlin.  I can also be shy at first when meeting new people, but I warm up very quickly.  When it comes to kids, the shelter thinks I would be good with them, as long as they were school age and cat-savvy.
Elvira, why do you think pet insurance is a good thing for all pet parents to consider?
I'm no doctor, but if I had to guess I'd say that pet illnesses and accidents are pretty common.  I've seen a lot of pets coming and going from the vet's office, and while I'm sure they're excited when they leave, their owners seem to be pretty upset when they see the bill.  Pet insurance seems like a good way to make sure your pets can get fixed up by the vet without their owners having to break the bank.
We couldn't have said it better ourselves!  Pets get sick just like people do, and their vet bills can be just as expensive as human medical bills.  Call us today for a free pet insurance quote and take the first step to protecting your furry friend's future!