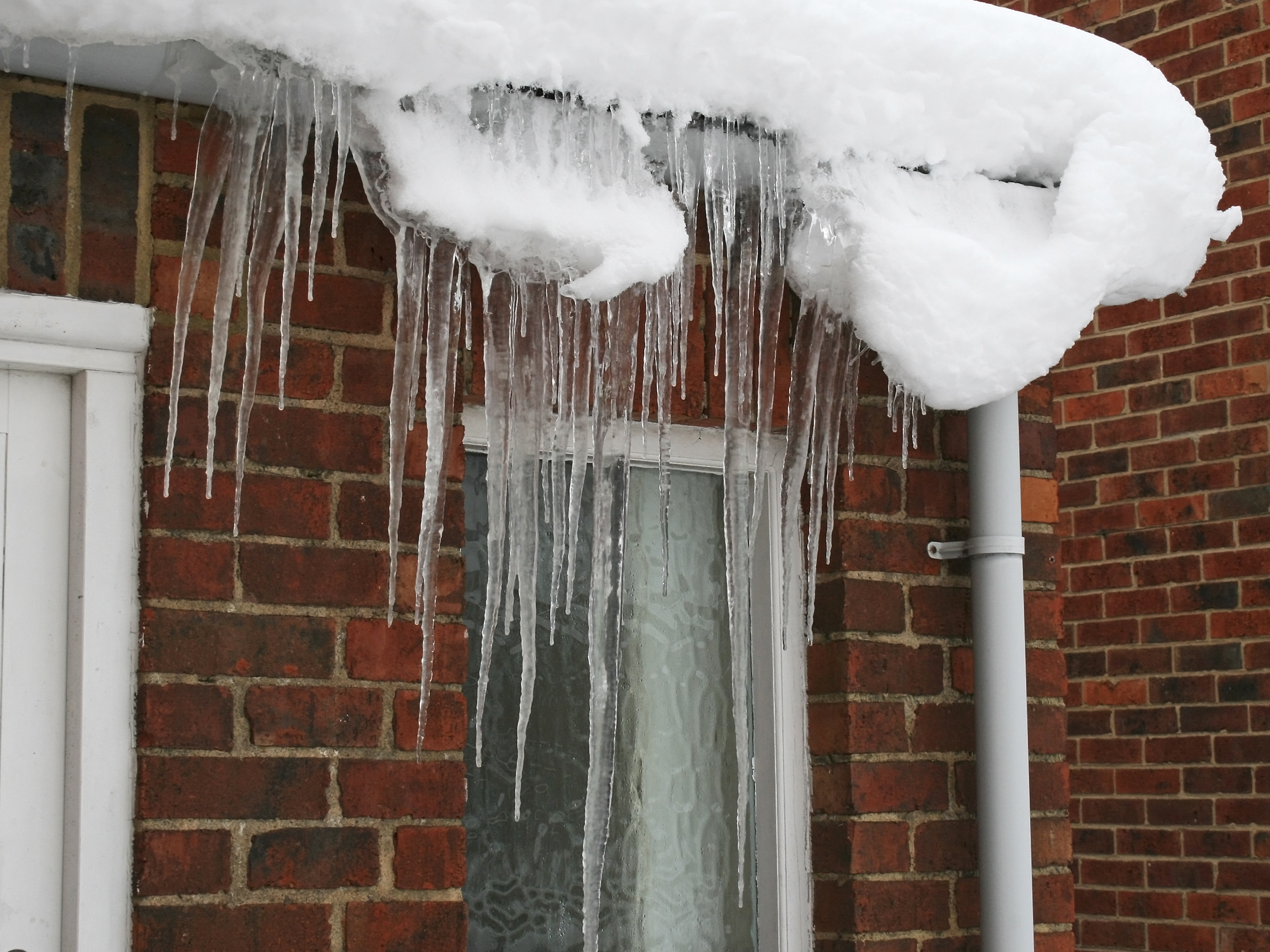 Ice dams go hand in hand with those beautiful looking icicles that form around your house. The snowy roofs and freezing weather that winter brings causes thick ridges of solid ice to form inside the eaves. These dams can cause havoc on your roof by ripping down gutters and loosening shingles. Even worse, they can cause water to pour back into your house.
To prevent them, it's helpful to know why they form in the first place. Attics tend to collect heat and keep the roof warm. The eaves, however, stay cold. When snow lands on the warmer roof, it melts, slides down into the cold eaves and freezes up. As the ice begins to accumulate, a dam forms causing melted water from the roof to back up behind it, unable to flow off of the house, and comes under the shingles and into the house.
Once this happens, the mountain of problems begins: peeling paint, warped floors, stained and sagging ceilings. On top of all of this, the soggy insolation in the attic loses R-Value and becomes the perfect host for mold and mildew.

Fast Fixes for Ice Dams
If you already have ice dams, a quick way to stop the leak is to take a box fan into the attic and aim it at the underside of the roof where the water is leaking through. The cold air will freeze the water in its tracks in minutes. Do NOT hack away at the ice dams. Besides causing damage to your roof, it is dangerous for you. Also, throwing salt on the dams will cause more harm to your plants than it will affect the ice.
A more effective way to melt the ice is with panty hose and calcium chloride (yep, you read that right. I said panty hose). Fill one leg of a panty house with calcium chloride ice melter, tie it up, then lay it over the roof so it crosses the ice dam and overhangs the gutter. A long-handled garden tool may be helpful to push it into position. The calcium chloride will eventually melt through the snow and ice to create a channel for water to flow down into the gutters or off the roof.
Heated cables are a great way to prevent ice dams. Attaching them with clips along the roof's edge in a zigzag patter will equalize your roof's temperature preventing the ice dams from forming. Only problem with these heated cables is they must be installed before the bad weather occurs. Another helpful tool to have is a roof rake with wheels that can help you scrape off the snow from your roof without causing damage to the shingles.
Will Homeowners Insurance Cover Damage by Ice Dams?
Standard Homeowners Insurance policies do typically cover interior and exterior damage from water flowing into a house because of an ice dam. Many Homeowner Insurance policies have water damage exclusions that applies to water that comes from underground sources, such as seepage through soil or backup in pipes. Ice damage is likely not excluded from your policy because the source of the flooding is coming from your roof.
Most policies, however, will not cover ice dam or snow removal from your roof or anywhere else on your property.   Some companies may provide some ice dam removal out of "good will." Check your policy for details
Best Solution to Preventing Ice Dams
The most permanent solution for preventing ice dams is keeping the entire roof the same temperature, which can be easier said than done. With increased ventilation, adding insolation, and sealing off all air leaks that could warm the underside of the roof, you should be able to keep the same temperature all around. Check out ThisOldHouse's tips on taking care of roof trouble spots so you can enjoy a dam free winter.