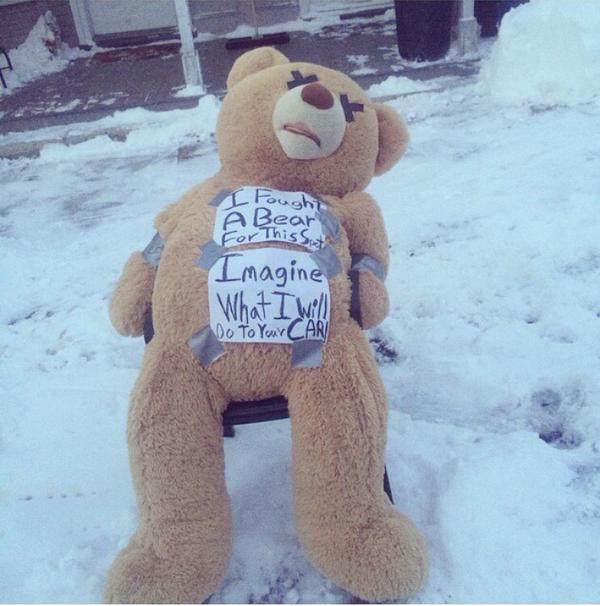 With record high snowstorms hitting Boston this year, residents are participating in the long tradition of parking space savers. Parking has become a huge challenge for Bostonians with so much snow, Boston doesn't even know where to put it. Even Mayor Marty Walsh has become a bit frustrated discussing the controversy and competitiveness of them when questioned on the topic at blizzard press conferences. With the amount of snow being so outrageous this year, so are the parking savers. Here are our favorite parking space savers from this season:
6. Although this parking saver is a classic chair, it makes our list because it's probably the most outrageously huge parking spot ever dug out of snow.
Props to this guy. You dig it, you own it. A lil tip about #BostonParking. #Blizzardof2015 #ProtectThePie pic.twitter.com/lG87U640u9

— Mitsubishi USA (@mitsucars) February 1, 2015
5. This sign out right says what every parking space saver hints, "Do not even think about it"!
Do not even think about it #bostonparking pic.twitter.com/79yeagKtKF

— Charles Palleschi (@CharlesPal) January 31, 2015
4. Parking a bike (or laying it down) as a space saver couldn't be more clear to others that that is your parking spot. literally.
Sweet #spacesaver bro.. #Blizzard2015 pic.twitter.com/LD13Ztleor

— Will Boyle (@williamboyle) January 26, 2015
3. Having the adorable Pooh Bear stand guard of this parking spot doesn't make the sign any less direct. "NO." Also, woah that is a tall parking saver.
Who's ready for winter? This is our favorite spot saver we've seen so far. #Bostonparking #winteriscoming pic.twitter.com/mk5yve0XxG

— Veer (@TheVeerApp) November 4, 2014
2. Using the shovel you broke from digging out your car from the snow is a genius way to make sure any parking space thief feels way too guilty to steal that spot.
#BOSnow #ProTip: When you break your shovel digging out your car. Turn it into a Boston Space Saver!!! pic.twitter.com/KwHNYGOHmr

— BostonAttitude (@BostonAttitude) February 8, 2015
And for the number 1 best parking saver..
1. Taking a once cute children's toy and turning it into collateral damage with a frightening message is sure to scare away anyone from taking that parking spot.
Parking is getting serious in Boston #juno2015 #Blizzard2015 @stoolpresidente @davidwade @BreeSison @LisaWBZ pic.twitter.com/PkwajRe6jn

— Mark Donovan (@mdboston10) January 29, 2015
There is a hot debate around Boston on whether or not parking savers should be allowed. The best way to approach it respect your neighbors. Everyone is dealing with the aftermath from these storms. There is a lot of snow in Boston, and even more heading our way. On the bright side, we can't wait to see those crazy space savers continue to pop up around Boston. Let us know the craziest ones you find!